Fashion is, and always has been a mirror of society. What that reflection shows us today is a large commercial industry designed solely for profit – not designed to best serve us. We are abound in cheap designer knock offs from the High Street that don't fit well, don't last, are made from synthetic fabrics that pollute our planet and enslave millions of garment workers across the globe.
Navigating fashion with a guilt free conscience can be extremely difficult and time consuming. Paper Theory was created in a quest to help those who want to check out of the fast fashion system - but don't want to check out of fashion altogether.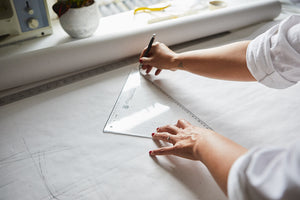 We love fashion! We want to create, define and express ourselves; we don't want to be forced into leaving fashion behind in order to lead ethical lives.
Slowing fashion down is not about nostalgia or harking back to better days - it's about pushing the social compass forward and creating systems that work for our future.
We can improve the infrastructure of the fashion Industry by understanding the true value of our clothes, buying vintage, supporting ethical fashion brands, upcycling our existing wardrobes and making our own slow fashion.
Read More on the Blog
Paper Theory Patterns are simple in style, with clean modern silhouettes referencing Modernist Design and heavily inspired by the workshop wardrobes of the most prominent female painters, sculptors, writers and crafters of our time.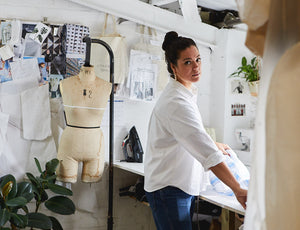 Paper Theory founder Tara has worked right across the Fashion industry, from High street stalwarts like Top Shop and All Saints to luxury catwalk brands like J.W Anderson, Erdem, and Roland Mouret. This breadth of experience gave her insight and expertise into how the fashion industry really works.
It is this behind the scenes understanding that lead her to reevaluate how the fashion industry was serving the public and prompted her to create a means for people to dip out of fast fashion without dipping out of fashion altogether...
Slow Fashion Patterns